Sun., October 30, 2016 (All day) ·
Support Seminarians
Run for Vocations is a ministry that supports vocations by raising funds to assist seminarians with unanticipated expenses. Laypeople, religious and clergy from around the Archdiocese of Washington, including St.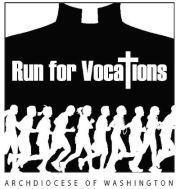 Matthew's will team up to Run for Vocations in the October 30 Marine Corps Marathon/10K. Each runner must raise $250. Are you interested in running or offering a donation in support of the St. Matthew's Team? Email Justin Silvers at just1justin@yahoo.com.
Apoye a los seminaristas
Run for Vocations o Carrera por las Vocaciones es un ministerio que apoya a las vocaciones recaudando fondos para ayudar a seminaristas con gastos inesperados. Laicos, religiosos y clérigos de toda la Arquidiócesis de Washington participan en Run for Vocations que es parte del Maratón de la Infantería Marina/10K la cual tomará a cabo este mes el 30 de octubre. Cada participante tiene que recaudar $250. Las donaciones serán parte de la recaudación de fondos para el equipo de nuestra parroquia. ¿Está interesado en correr con el equipo de San Mateo o apoyarlo con donaciones monetarias? Mande un mensaje a Justin Silvers a just1justin@yahoo.com o llame a la rectoría.