Promoting a Culture of Life
The Respect Life Ministry is concerned with promoting and cultivating a culture of life and witnessing to the dignity of all human life, from conception to natural death.
Rosary for Life
On the fourth Saturday of the month we gather at 11:30am to pray the rosary in the Cathedral. All are welcome.
March for Life
I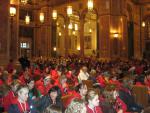 n partnership with the Archdiocese of Washington, St. Matthew's hosts a special liturgy on or near January 22, the anniversary of the U. S. Supreme Court decision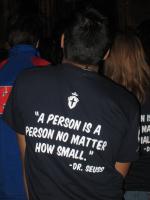 in Roe v. Wade,at which we welcome groups from across the country who participate in the March for Life along Constititution Avenue. We also host a series of Archdiocesan "Witness to Life" events.
HIV/AIDS Support
St. Matthew's ministry hosts a special liturgy for World AIDS Day (December 1), which includes a guest lecture, liturgy, informational sharing and a reception.
Volunteers interested in expanding this ministry in the areas of service, education and witness should contact Norma Canedo at socialjustice@stmatthewscathedral.org or Justin Silvers at stmatthewsrespectlife@yahoo.com.