Single Servings of Service allows parishioners to volunteer in a meaningful way without making a long-term commitment. Single Servings of Service events typically are scheduled throughout the year. This service program allows St. Matthew's to outreach and serve a wider community since recipients of single servings of service are a variety of nonprofit service agencies that serve different populations within the Washington, D.C. area. If interested, send an email to stmattservice@gmail.com.
When the date approaches details about these events will be announced in the church bulletin and other places like the church's facebook page, the Social Justice and Community Service's google group email list, and the Young Adult Ministry email list. If you want to lead the group of St. Matthew's parishioners for any of these events please contact Gregg Glotnis at gglotnis@verizon.net. Leading would involve arranging carpools, if necessary, and telling people where and when to meet.
Recent Service Events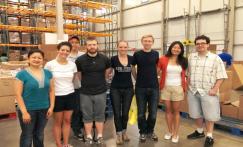 On July 13, a group (left) helped out at the Capital Area Food Bank. We prepared and boxed hundreds of food packets and helped to sort food donations.
We prepared meals for patients at Christ House in Columbia Heights on two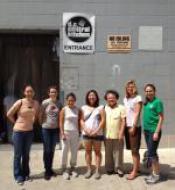 Saturdays last year. Christ House provides 24-hour personal care for sick, homeless people to help break the cycle of homelessness.
DC Central Kitchen is popular among DC volunteers, including DC parishioners. Last year we signed up St. Matthew's Cathedral to prepare food at their soup kitchen. At right is our volunteer team at that event.
Below are photos from a Single Servings of Service event at Martha's Table.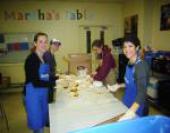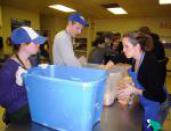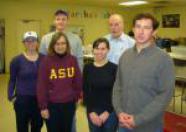 Also in 2011, a St. Matthew's team volunteered at DC Books to Prisons (photo below). The DC Books to Prisons Project provides a critical link between citizens who are incarcerated and those outside prison walls by sending donated reading material to prisoners. Volunteers read their letter requests for books, pick out the books from the shelves of donated books, wrap, and address them to the prisoners. "I was in prison and you came to visit me." Matthew 25:34. Books to Prisons is just a few blocks from St. Matthew's Cathedral.

Upcoming Service Events
Upcoming Single Servings of Service events are listed in the parish calendar.
Regular Events
A regular fixture of this service program is the bi-annual (Fall Feast of Treats and Spring Celebration) potluck dinners for St. Matthew's homeless friends. Volunteers help to set up, serve the meal, provide hospitality to our guests, and clean up afterwards; make or purchase food for the dinner; and/or give a donation towards food and supplies. Watch for these events in the parish bulletin or contact Nancy Lutz at nlutz@kelleydrye.com.
Contact
For more information, contact Norma Canedo at socialjustice@stmatthewscathedral.org.