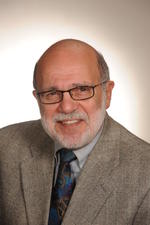 Deacon Merella was born in Cleveland, Ohio (1935). He received an AB degree from John Carroll University, the Jesuit university of Cleveland. He moved to Washington (1961), married his wife, Eileen (1963) and has lived in Bowie, Maryland since 1966. He has three children (Mark, Maureen and Monica) and nine grandchildren. He retired from the US Department of Navy (1994) after serving 34 years years as a civilian logistics executive.
He was ordained (1986) to the office of Deacon for the Archdiocese of Washington by James Cardinal Hickey and has served at Holy Redeemer Parish in College Park, Maryland (1986-98), at St. Joseph's on Capitol Hill (1998-2006) and at St. Matthew's Cathedral since 2006. He has served the Archdiocese of Washington as a member of the former Archdiocesan Liturgy Commission (1975-83), as a member of the Papal Mass Committee for Pope John Paul II's visit to Washington in 1979 and lecturer for Archdiocesan ministry workshops.
He received the degree of Master of Theological Studies (1997) from the Washington Catholic Theological Union where he has served since 2000 as its Registrar. He has written articles for the periodicals Pastoral Liturgy and the New Theology Review. In his free time, he cheers the Cleveland Indians (baseball) and Cleveland Browns (football), reads avidly and keeps his ear tuned to the Cleveland Orchestra and the Metropolitan Opera.
Deacon Merella has a history with the cathedral dating to his 1961 arrival in Washington. The cathedral was his first parish as a young adult and he was active in its life, becoming president of the cathedral Young Adult Club, through which he met his wife. The cathedral was also the place where his first child was baptized. Later as deacon, he frequently assisted at cathedral Holy Week liturgies for the reading of the passion. His cathedral duties are to: assist at cathedral liturgies; assist the parish council liturgy committee; coordinate our assigned deacons, teach and administer the sacraments of baptism and marriage.