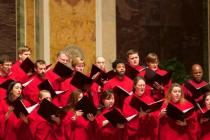 The Schola Cantorum is on winter hiatus, returning to the 10am and 11:30am Masses on March 1, 2020, and also singing on Ash Wednesday, February 26, 2020.
Enjoy a taste of the choral music you will hear from St. Matthew's Schola Cantorum (Latin for "School of Singers" at the 10am and 11:30am Masses this Sunday, courtesy of St. Matthew's Office of Music Ministries.
Past Choral Highlights
Visit our past choral highlights archive for music from previous Sundays in the current liturgical year (Cycle C) and going back to 2016.