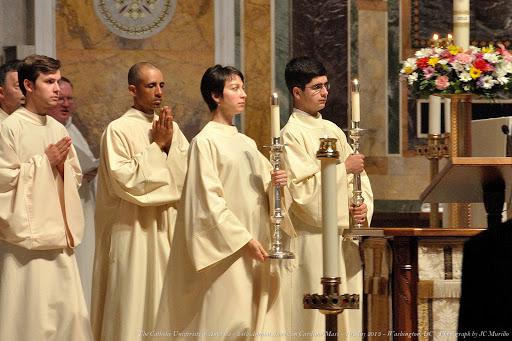 Servers have been a long-standing form of service in the liturgy. Their duties emanate from those traditionally performed by the deacon. Since the deacon is not always available, this ministry has developed in the history of the church to serve as needed in the various liturgies and other forms of worship. While Its duties are routinely performed by laypersons, it is an "instituted" office known as Acolyte that is bestowed on an individual by the bishop of the diocese.
Typical duties of the server are to carry the processional cross (cross-bearer), to carry the incense and its boat (thurifer), to carry the processional candles (candle-bearer), to assist with sacramentary and other liturgical books used in the liturgy, to carry the episcopal articles when the archbishop presides, and to assist in preparing the altar.
Who Can Serve
Any male or female parishioner who has reached the age of 11 and has completed the necessary parish training may serve.
Servers are needed for both Sunday and daily Masses as well as some special liturgies and devotions.  Schedule specifics are arranged with the ministry leaders.
Ministry Leaders
To be announced
Contact
For more information and/or to volunteer for this ministry, please email the rectory: ministries@stmatthewscathedral.org