Support Us
The beautiful and historic Cathedral of St. Matthew the Apostle and downtown parish community depend entirely on the financial support of Cathedral parishioners, friends and visitors.
The magnificent sacred space of the Cathedral, enriching liturgies, acclaimed choirs, extensive community and charitable activities, service and education programs and other activities found at the Cathedral are made possible only through the treasure of our parish community and our friends, near and far. We sincerely thank you for your continuing generosity and invite you to consider the ways in which you can contribute.
Electronic Giving via Faith Direct
The Gospels calls us to be good stewards of our time, talent and treasures. Parishioners are encouraged to contribute to the general operations of the parish and the many services it provides to the parish and the larger community. The preferred and convenient option for your offerings is Faith Direct, our electronic giving program, which enables a parishioner to make donations on a regular basis by direct payments debited from one's bank account or by charge to a personal credit card on a monthly basis. You can enroll at the Faith Direct website that also describes more completely this electronic option for giving. Our parish access code to the website is DC284. more about e-giving with Faith Direct ».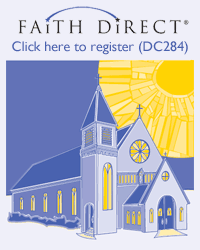 Envelope Giving
If you wish to use the traditional envelope to make your regular contribution during the offertory collection at Mass, you may designate this form of giving by indicating this method on our parish registration form.
PayPal with Debit and Credit Options
Many people—visitors and parishioner alike—find it convenient to make a gift to St. Matthew's using our PayPal form below, with debit and credit card options.

***Check out the dropdown menu under Purpose, which includes a separate category for donations to our Sunday Second Collection.
Special Bequests
Many parishioners make a special bequest in their will to the Cathedral in many different forms, such as cash or in other forms such as stocks and bonds. For information on contributing in this way, email Pam Erwin or call her at 202-587-5150. You may also email Msgr. Jameson or call him at 202-347-3215.
Poor Box Donations
Poor Box donations are used to fund our Social Justice & Community Services programs. These special cash or check donations provide important financial support to the many outreach services to the community and the special needs of the local area; responding to the call of Jesus to serve those most in need. You are also encouraged to make a regular monthly contribution using our electronic giving method described above. more about Poor Box donations »
Friends of Music
To support the level of music excellence appropriate to a cathedral church and parish, parishioners and friends of the Cathedral are invited and encouraged to make special donations or bequests to the Cathedral's music program by becoming a donor to the Friends of Music. more about St. Matthew's Friends of Music ».
Cathedral Gift Items
The Cathedral has a number of gift items and articles for purchase either as gifts or personal enjoyment. View a list of our Cathedral gift items available for sale at the rectory or by mail order.