Mission
The Social Justice and Community Service Committee mobilizes the parish community by promoting opportunities to serve those in need and to give witness of our faith in Jesus Christ through concrete acts of love and service that overcome our selfishness and indifference.
Committee Chairmen
Chairman: Channing Pejic.
Vice chairman: Chris Maher
Staff Liaisons:
Fr. John Benson and Norma Cindy Canedo-Estrada
Meetings:
Update: Meetings are currently held virtually. To sign-up to be sent a link to our monthly committee meeting, email our chairmen listed above.
Interested parishioners are invited to attend committee meetings on the last Monday of each month at 6:45pm in the East Conference room.
Ministries:
Newsletter: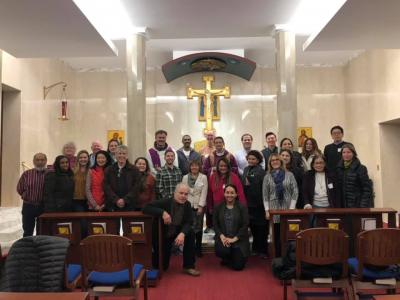 Make a Donation to the Social Justice Ministry
Your gift to the Social Justice Ministry at St. Matthew's Cathedral will help to bring God's mercy to our brothers and sisters in greatest need. By giving your time, talent, and treasure, you are helping to build the Kingdom of God here in Washington, DC. Please follow the directions below to make a gift to the Social Justice Ministry.
Choose "Donate" to the right.
After filling out the form with your address and credit card information, click "Review Donation and Continue."
Choose "Comments" and in the comments window, indicate how you would like your gift to be used. If you wish your gift to remain anonymous, please indicate that as well. For example, you may choose the following:

Adopt a Family Program (Specify: Thanksgiving, Christmas, Easter, or Back to School Drive)
Emergency Assistance Fund (utilities, rent)
Homeless Ministry
Respect Life Ministry
Social Justice Advocacy and Education Ministry
Special Projects (specify project)

If you would like to confirm that your donation is applied to a specific ministry or drive, you are welcome to write and/or forward your email receipt to Norma.
Many thanks for your support!