Spanish as a Second Language Program
The Spanish as a Second Language (SSL) Program is an all-volunteer program that provides Spanish language instruction to adults (ages 18 and up) during three semesters each year: Fall, Spring, and Summer. Language instruction is provided at Level 1, Level 2, and Level 3. Classes are held at St. Matthew's Education Center, 1726 N Street, NW.
While the SSL Program seeks to provide Spanish language instruction to persons engaged in serving their brothers and sisters in the Hispanic communities of the Washington, DC metropolitan area, the Program also accepts students who are interested in learning Spanish solely for their personal enrichment. Please be aware that priority registration is given to parishioners of St. Matthew's and then opened to anyone else.
The following is information regarding the upcoming semester. Click here for the flyer for the Spring 2020 Semester.
UPDATE:To maintain the health and safety of volunteers and students during this time of pandemic, the winter and spring semesters 2022 are canceled. Please continue to check the website for upcoming semesters.
The 13-week Spring Semester will run from February 11 to May 14. During this period, classes will be held on Tuesday, Wednesday, and Thursday evenings from 6:30pm to 8:30pm, with optional pre-class tutoring between 6:00pm and 6:30pm. Language instruction will be provided at Level 1 (Beginner) through Level 3 (Advanced). Students may register in person, on Thursday, February 6 or Monday, February 10 between 6:30pm and 8:30pm, at St. Matthew's Education Center, 1726 N Street, NW. At registration, each student will be assessed to determine the appropriate class level in which he/she will be placed. The cost of the 13-week semester is $85. Includes price of a textbook. For more information, email stmattsssl@gmail.com. You may also contact the Cathedral staff liaisons, Fr. John Benson and Norma Canedo at socialjustice@stmatthewscathedral.org.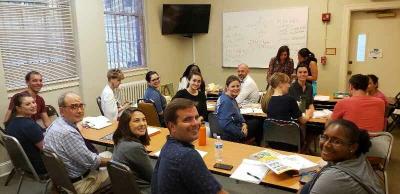 End of Semester Celebrations
On the last day of each semester, all the students and volunteers of the semester gather in one of the Cathedral's large conference rooms to celebrate their achievements. During this "End of Semester Celebration", each student is conferred an official "Certificate of Participation" to acknowledge their participation in the SSL Program. The celebration is a "potluck" event, where each student and volunteer is invited to bring a dish of food, desert, or beverage of their choice to share with their fellow classmates and volunteers. Family members and friends of the semester's students and volunteers, as well as alumni of the SSL Program (i.e., former students and former volunteers) are welcome to join us for this celebration.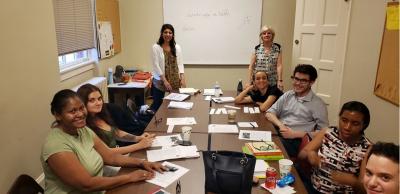 Volunteer Teachers Needed for SSL Program
We are looking for volunteers to serve as teachers one night per week for the SSL Program. Please see above for more details. While volunteers are not required to have formal training in teaching Spanish as a second language, we expect their native language to be Spanish. Classes will be taught in Spanish only. If you are not comfortable teaching a class on your own, we can pair you with a more experienced teacher. If you are interested in volunteering, please contact stmattsssl@gmail.com.
Important: All volunteers (new and returning) will be required to attend the pre-semester "Preparation, Planning and Orientation" meeting on Wednesday, February 5 from 6:30pm to 8:30pm.
Se solicita maestros voluntarios para el Programa SSL
Estamos buscando voluntarios que puedan servir como maestros una noche por semana durante el semestre del Programa SSL. Por favor mire arriba para más detalles. No es un requisito que los voluntarios tengan una capacitación formal como maestros de español, sin embargo, esperamos que la lengua materna de los voluntarios sea el español. Se espera asimismo que los voluntarios cuenten como mínimo con un título universitario. Las clases serán impartidas sólo en español. Si usted no se siente a gusto dando la clase por sí solo podemos acomodarlo junto con algún maestro con más experiencia. Si usted está interesado en participar como voluntario por favor póngase en contacto con stmattsssl@gmail.com.
Importante: Se pedirá a todos los voluntarios (nuevos o que regresan para continuar sirviendo) que se reúnan como equipo para la noche de orientación el miercoles, 5 de febrero, 6:30 a 8:30 de la noche. Voluntarios tendran que inscribirse con los coordinadores para servir con el programa.