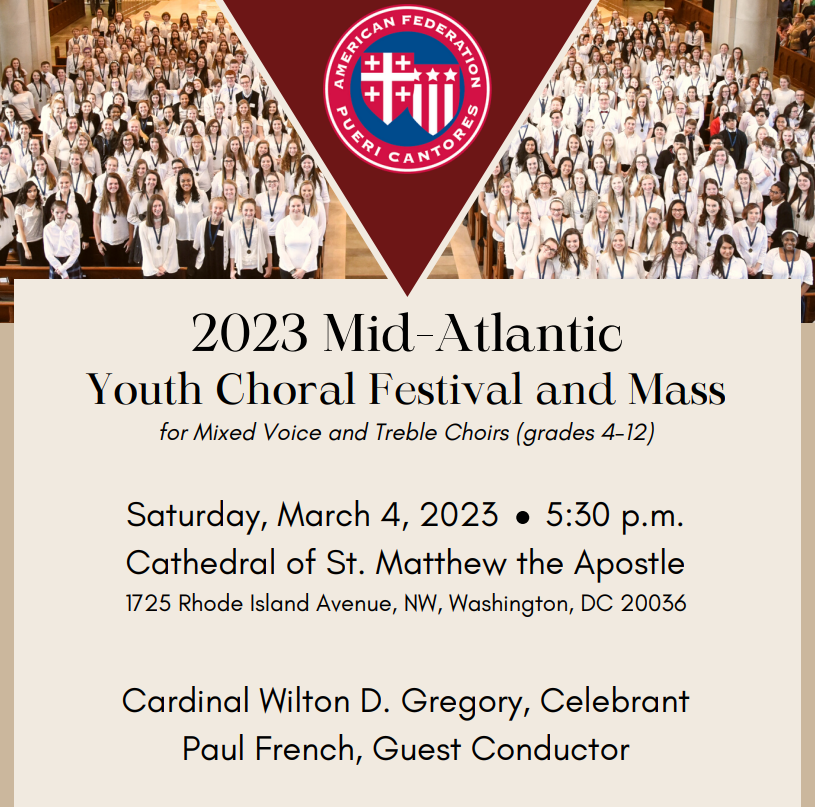 5pm Choral Prelude & 5:30pm Vigil Mass Accompaniment
Catholic Children's Choirs, including several from the DC Metropolitan area, give a prelude concert and accompany the 5:30pm Vigil Mass, celebrated by Cardinal Gregory, on Saturday, March 4, 2023. Enjoy the prelude beginning at 5pm.
Watch the livestream of the 5:30pm Vigil Mass.
Pueri Cantores Festival
The choirs' performance, and their gathering and rehearsals at St. Matthew's that day, are part of the Pueri Cantores 2023 Mid-Atlantic Youth Choral Festival and Mass. Paul French, Music Director at Chicago's Our Lady of Mount Carmel Church, is the guest conductor.
Our guest singers and their chaperones will be welcomed by Tom Stehle, Pastoral Associate for Liturgy and Director of Music Ministries, who is coordinating the day's activities here at the Cathedral.
Pueri Cantores, the national student choral organization of the Catholic Church, unites singers from the region with their peers as one combined choir to sing beautiful music from the Church's historical repertoire. Read more about this organization.
Contact: Tom Stehle