See the Laudato Si' Week 2023 flier.
Movie Night
St. Matthew's Creation Care Green Team invites you to a live screening of the film, "The Letter" on Friday, May 26, 2023, 6:15 - 8pm, part of our 2023 Laudato Si' Week celebration.
The Letter tells the story of a journey to Rome of frontline leaders to discuss the encyclical letter Laudato Si' with Pope Francis. The exclusive dialogue with the Pope included in the film offers a revealing insight into the personal history of Pope Francis and stories never seen since he became the Bishop of Rome."

(Laudato Si' Movement website)
The screening begins at 6:15pm, shortly after the 5:30pm Mass, in the North Conference Room. Please join us for an enlightening evening of fellowship.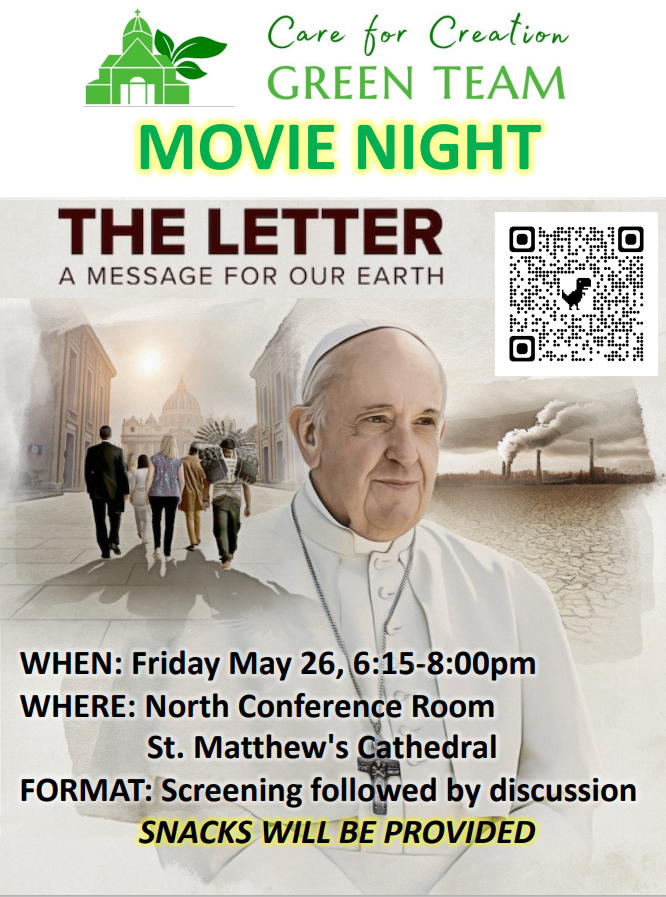 Towards a Fuller Celebration of Laudato Si' Week 2023
Our Creation Care Green Team commends the following videos, produced by the Laudato Si' Movement:
Fr Joshtrom Isaac Kureethadam invites us to celebrate #LaudatoSiWeek 2023 💙
What does ecological conversion mean?
How can we save biodiversity and protect our planet without leaving anyone behind?
Understanding our Christian values is crucial to understanding our call to be stewards of Creation