Sunday Afternoon Recital
Join us on Sunday, November 19, 2023 as we welcome to St. Matthew's the Music Director at St. Mary Mother of God in Washington, DC, David Swenson. David will present a recital at 3:15pm on the Cathedral's Lively-Fulcher organ. You are most welcome to join us in the Cathedral for this live event. The recital also will be livestreamed from the Cathedral on our YouTube channel.
Program
David will perform works of Georg Böhm,  J.S. Bach, César Franck, and Paul Hindemith.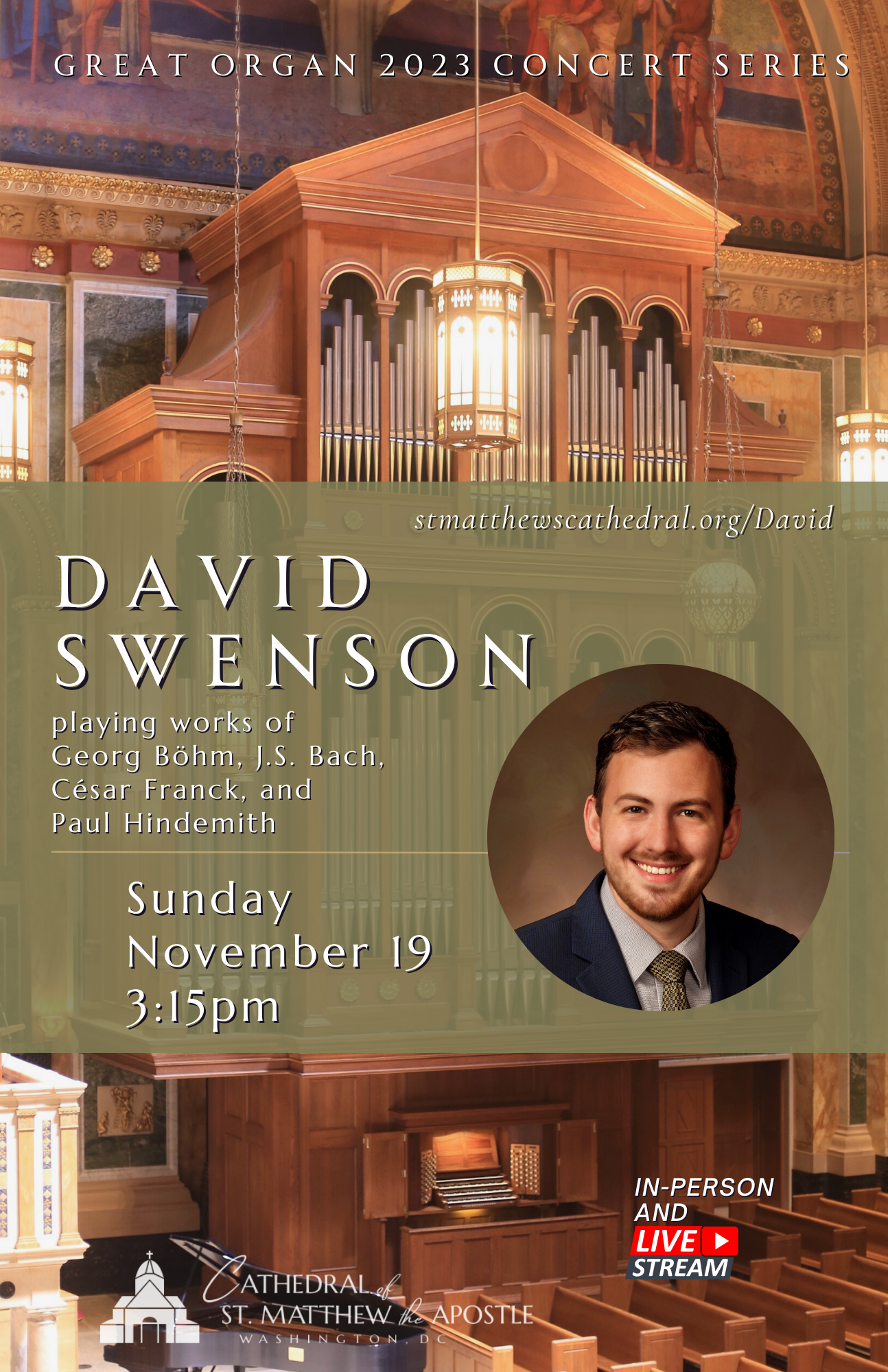 Meet the Artist
David has been the director of music at Saint Mary Mother of God since July of 2021 where he serves in the roles of organist, choirmaster, and administrator. He is also a musician in various churches in the DC, Maryland, Virginia area and teaches his private studio of piano, organ, and saxophone students. Previously, David studied at the University of Notre Dame, where he received his Master of Sacred Music degree in 2022 and his Bachelor of Arts degrees in music and theology as well as a minor in philosophy in 2019. His teachers in the practice of organ were Kola Owolabi and Huw Lewis, Carmen-Helena Téllez in conducting, Darlene Catello in harpsichord, and Preston Harrell in the practice of voice. While not at school, he was an active church musician at parishes throughout the Twin Cities and surrounding areas in Minnesota. While his formal academic training is in organ performance, David also is a pianist, choral singer, and saxophonist.
Contact
For more information, contact Tom Stehle, Pastoral Associate for Liturgy and Director of Music Ministries.
Read about our Lively-Fulcher Organ.