Fri., April 19, 2019 12:00pm ·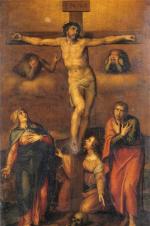 Reflection on the Lord's Passion
Rev. Timothy O'Brien, S.J., Associate Pastor at Holy Trinity Catholic Church, will deliver a Reflection on the Lord's Passion, joined by St. Matthew's Schola Cantorum,at Noon on Good Friday, April 19, followed at 1pm by the Liturgy of the Lord's Passion.
Confessions in English and Spanish will be available from 11am until the Noon Reflection.
Fr. Timothy W. O'Brien, S.J., is a member of the Maryland Province Society of Jesus (the Jesuits) and presently serves at Holy Trinity Catholic Church in Georgetown. A native of the Philadelphia area, Fr. O'Brien earned a bachelor's degree in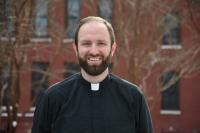 political science from The College of the Holy Cross (Worcester, MA). Before entering the Jesuits in 2008, he worked for the U.S. Department of Justice. He returned to Washington last October after completing his licentiate in sacred theology in France. Fr. O'Brien is a former editor of and contributor to The Jesuit Post,a website offering faith-based commentary geared to young adults. His writing has also appeared in various other venues, including America Magazine,On Faith,Studies in Spirituality,and The Heythrop Journal.
Schedule for Good Friday
9:00am: Morning Prayer, St. Anthony Chapel
11:00am to Noon: Confessions (multiple confessors)
Noon: Reflection on the Lord's Passion, Rev. Timothy O'Brien, S.J.
1:00pm: Liturgy of the Lord's Passion (Schola Cantorum)
4:00pm: Liturgia de la Pasión de N.S. Jesucristo, Adoración de la Santa Cruz, Y Santa Comunión
7:30pm: Stations of the Cross (in English)