Mon., September 16, 2019 6:45pm ·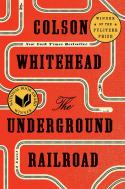 The Cathedral Book Club meets on Monday, September 16 from 6:45 to 8pm in the West Conference Room to discuss "The Underground Railroad," by Colson Whitehead. The author was featured on the cover of the July 8 TIME magazine and described as "America's Storyteller".
The selection, a Pulitizer Prize winner, has historical and contemporary relevance. Whitehead is one of the principal living American novelists. The book has been described as "potent … devastating … essential" by the New York TImes, and "heart-stopping" by Oprah Winfrey. The story offers a gripping tale of one woman's will to escape the horrors of slavery.
The book flap's suggestion that "It is a powerful meditation on the history we all share" is a sad understatement of the challenge we continue to deal with, in our nation and throughout the world.