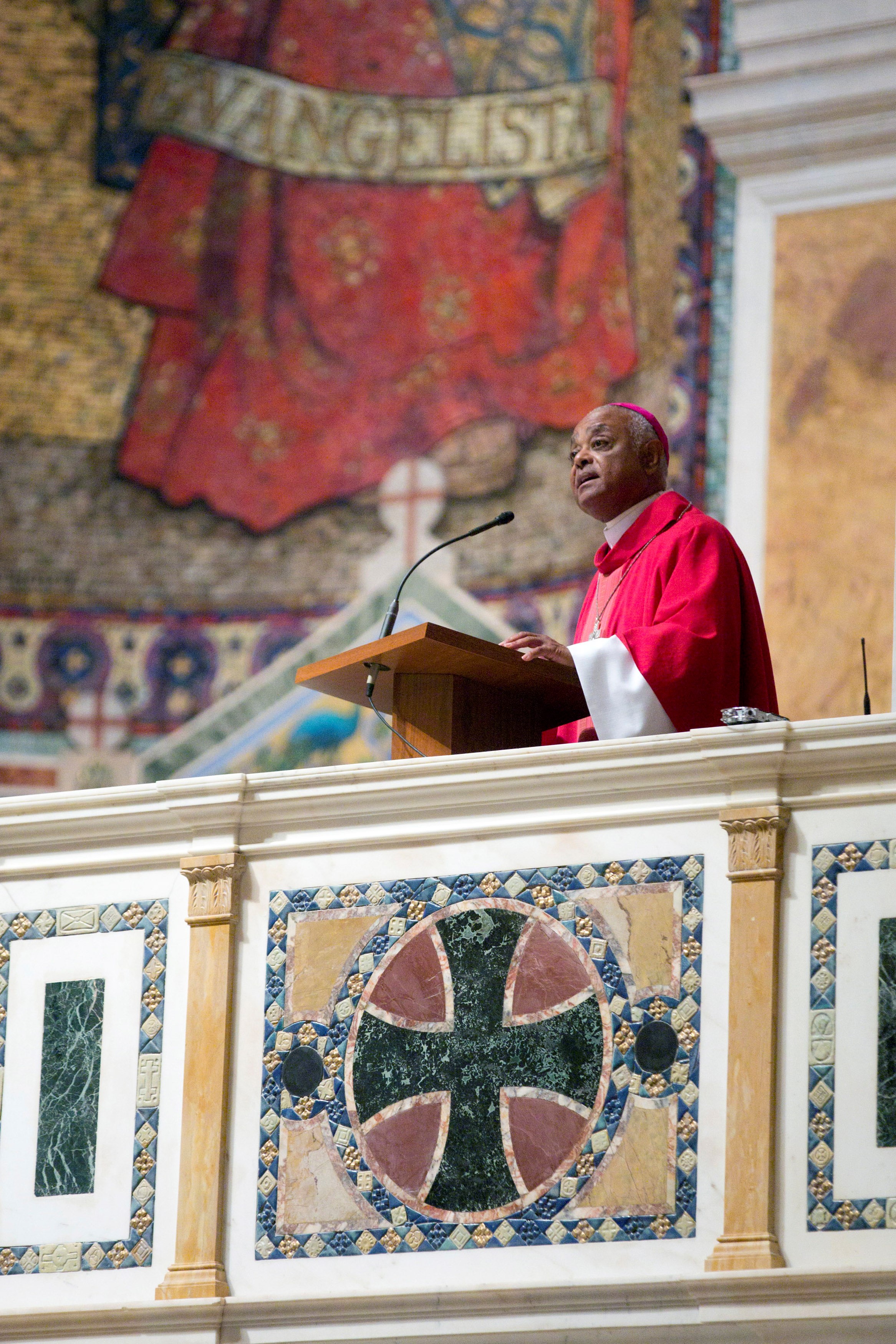 The 67th Annual Red Mass will be held at the Cathedral on Sunday, October 6 at 10am, with Archbishop Wilton Gregory as principal celebrant and homilist.
The John Carroll Society hosts the Red Mass for its members and guests, including many government officials with attendant security. It is open to the public, but attendance is very high. If you normally attend the 10am Mass, you may wish to consider attending another Mass that weekend. Please note that the 8:30am Mass is cancelled that day.
If you plan to attend the Red Mass, please arrive early as the fire marshal will not allow entry once the Cathedral is filled to capacity. Thank you for helping us extend the Cathedral's hospitality to the John Carroll Society for this celebration. 
The Red Mass 
On February 15, 1953, Archbishop Patrick A. O'Boyle celebrated the first John Carroll Society-sponsored Red Mass at the Cathedral of Saint Matthew the Apostle. In succeeding years, the congregation frequently has included the President of the United States, the Chief Justice of the United States, Associate Justices, other leading federal, and local jurists, cabinet officials, members of Congress, diplomats, university presidents, deans, professors, students of law, and lawyers.
The Red Mass is celebrated annually at the Cathedral, traditionally on the Sunday before the first Monday in October, which marks the opening of the Supreme Court's annual term. Its purpose is to invoke God's blessings on those responsible for the administration of justice as well as on all public officials.
Since its inception, the Red Mass has remained the ceremonial highlight of the John Carroll Society's year. Liturgically, the Red Mass is celebrated as the Solemn Mass of the Holy Spirit. Its name derives from the traditional red color of the vestments worn by clergy during the Mass, representing the tongues of fire symbolizing the presence of the Holy Spirit.
The Red Mass enjoys a rich history. Originating centuries ago in Rome, Paris and London, its name also exemplifies the scarlet rose worn by royal judges that attended the Mass centuries ago. The Red Mass historically marked the official opening of the judicial year of the Sacred Roman Rota, the tribunal of the Holy See. During the reign of Louis IX (Saint Louis of France), La Sainte Chapelle in Paris was designated as the chapel for the Mass. In England, beginning in the Middle Ages and continuing even through World War II, judges and lawyers have attended the Red Mass, which today is celebrated annually at Westminster Cathedral.
In the United States, the Red Mass tradition was inaugurated in 1928 at old Saint Andrew's Church in New York City. Since then, the Red Mass has been celebrated increasingly in communities throughout the United States.