Sun., October 20, 2019 3:30pm ·
Sunday Afternoon Recital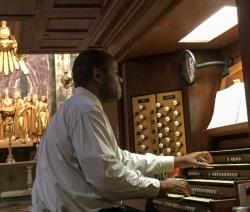 St. Matthew's Lively-Fulcher Great Organ Inaugural Concert Series continues with a Sunday Afternoon Recital of works by Richard K. Fitzgerald and Maurice Duruflé on October 20 at 3:30pm, featuring Cathedral Organist Paul Hardy.
Paul has been the Principal Organist of the Cathedral of St. Matthew the Apostle since 2000. He also assists the musicians at the Basilica of the National Shrine as organist and carilloneur.
Paul studied organ with Dr. Robert Grogan. He also works as a Database and ETL Developer at American University in the Office of Information Technology.
Join us as we continue the celebration of the completion of our Lively-Fulcher Great Organ, following its rededication and public performance debut on May 10, 2019.