Winter Study - Book of Ezekiel
Join Fr. Jack Hurley and friends on Saturdays, February 1, 8 and 15 for a discussion of the Book of Ezekiel. This unique prophet stands out for his presentation of the absolute majesty of God.
Sometimes called the "father of Judaism", although exiled in Babylon, Ezekiel's writing considers the Temple and liturgy. At the same time, however, the prophet envisions the new heart and the new spirit to come with God's new covenant. Thus, the New American Bible notes that "by such teachings he helped prepare for the New Testament doctrine of salvation through grace."
Come and enjoy the valuable insights Fr. Jack brings to these studies. We meet from 10:30 to 11:45am in the East Conference Room. All are welcome!
Image:"The Prophet Ezekiel" by Michelangelo
Saturday Bible Study
Fr. Jack Hurley's Saturday Bible studies are a regular, and popular, feature of our Faith Formation program - have you ever joined us? Over the years, Fr. Jack has led us in study of the Acts of the Apostles, the Gospels, the Prophetic books of the Bible, the Wisdom books of the Old Testament, St. Paul's Letters to the Romans and to the Galatians, the Parables of Mercy, the Psalms, and more.
As pointed out in the reflection below, Fr. Hurley's career as a U. S. Department of State Foreign Service officer, including his visits to many Bible locales, and his interest and pursuits in religion and international relations, lend a unique geopolitical perspective to the studies.
Appreciation for Fr. Hurley's Bible Studies
During our 175th Anniversary Year, we invited parishioners and friends to share their memories and impressions of St. Matthew's. Parishioner Mary Moran obliged with a reflection on Fr. Hurley's Bible studies.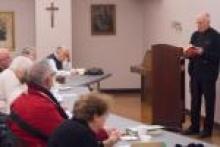 One of my favorite inspirations at St. Matthew's has been attending Fr. Jack Hurley's Bible Study sessions over the years. Fr. Hurley is very humble, but he had a very distinguished career for over 15 years as a U. S. State Department Foreign Service Officer, in addition to serving in the Army, including a tour in South Korea, before becoming a priest. As a State Department official, Fr. Hurley's postings included South Africa, Germany, and South Vietnam in addition to the State Department Headquarters in Washington. Additionally, he occasionally teaches a course in religion and international relations at Catholic University. With his extensive State Department and international insights, Fr. Hurley makes the Bible locations fascinating, as he has been to so many of these places and knows well their geopolitical as well as historic and religious backgrounds.
I'm grateful I've been able to attend a good number of the Bible study gatherings. I not only have developed a better understanding of the Bible, but also a greater knowledge and appreciation for the impact of religion on international affairs.

—Mary Moran
Sponsored by Faith Formation Consortium