Repeats every week every Tuesday until Mon Mar 16 2020.
Tue., February 25, 2020 7:00pm ·
El Grupo de Oración en Español se reunirá a las 7 de la tarde en el salón de conferencias del Norte. Vea y comparta el folleto de cuaresma en español. View and share the English Lenten brochure.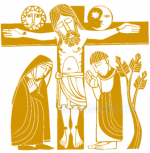 CUARESMA
Tema del año: Las siete últimas palabras de Jesús
1. "Padre, perdónalos, porque no saben lo que hacen"
2. "Yo te aseguro: hoy estarás conmigo en el Paraíso"
3. "Mujer, ahí tienes a tu hijo"
4. "¡Dios mío, ¿por qué me has abandonado?"
5. "Tengo sed"
6. "Todo está cumplido"
7. "Padre, en tus manos encomiendo mi espíritu"
Martes 25 de febrero
Grupo de Oración, Rosario 7:00 de la tarde
Tema "La Cuaresma: Tiempo de conversión y reflexión sobre la vida"
7:30 de la tarde
Padre John Benson
Salón de conferencias del Oeste
Miércoles de Ceniza 26 de febrero
Misa en español e imposición de la Ceniza
Misa y Vía Crucis 7:00 de la tarde
Padre John Benson
Domingo 1 de marzo, I de Cuaresma
Misa en español 1:00 de la tarde
Vía Crucis después de la Misa
No Confesiones
Martes 3 de marzo
Grupo de Oración, Rosario 7:00 de la tarde
Su Excelencia Mario E. Dorsonville
Presentación de los adolescentes de Confirmación con sus padrinos
Salón de conferencias del Norte
Domingo 8 de marzo, II de Cuaresma
Misa en español 1:00 de la tarde
Confesiones y Vía Crucis después de la Misa
Martes 10 de marzo
Grupo de Oración, Rosario 7:00 de la tarde
Tema: La primera palabra
7:30 de la tarde
Padre John Benson
Salón de conferencias del Oeste
Domingo 15 de marzo, III de Cuaresma
Misa en español 1:00 de la tarde
Confesiones y Vía Crucis
después de la Misa
Martes 17 de marzo
Grupo de Oración, Rosario 7:00 de la tarde
Tema: La segunda y la tercera palabra
7:30 de la tarde
Padre John Benson
Salón de conferencias del Oeste
Domingo 22 de marzo, IV de Cuaresma
Misa en español 1:00 de la tarde
Vía Crucis después de la Misa
No Confesiones
Martes 24 de marzo
Grupo de Oración, Rosario 7:00 de la tarde
Tema: La cuarta y la quinta palabra
7:30 de la tarde
Padre John Benson
Salón de conferencias del Oeste
Domingo 29 de marzo, V de Cuaresma
Misa en español 1:00 de la tarde
Confesiones y Vía Crucis
después de la Misa
Martes 31 de marzo
Grupo de Oración, Rosario 7:00 de la tarde
Tema: La sexta y la séptima palabra
7:30 de la tarde
Padre John Benson
Salón de conferencias del Oeste
Día de Retiro:
"Origen de los siete pecados capitales:
Evagrio Pontico, Juan Cassiano,
y los ocho 'pensamientos'
de los padres del desierto"
el sábado 14 de marzo
de 9:00 de la mañana a 4:00 de la tarde
Salón de conferencias del Norte
Líderes el Grupo Tira la Red y
Padre John Benson