Sun., November 22, 2020 3:30pm ·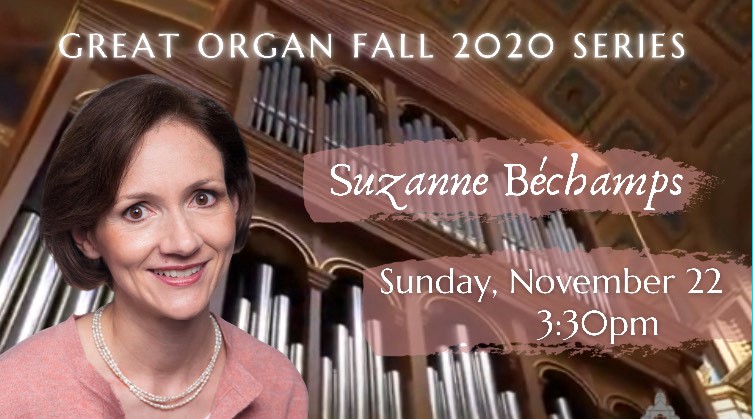 St. Matthew's Cathedral Associate Organist Suzanne Béchamps continues our fall 2020 portion of the newly resumed Cathedral Great Organ Concert Series with a recital on our Lively-Fulcher Organ at 3:30pm on Sunday, November 22, open to the public and livestreamed from the Cathedral on our YouTube Channel. Come, bring a friend, and enjoy this 50-minute program in person, or watch live or later.
Suzanne Béchamps will present a recital on the completed Lively-Fulcher Great Organ on Sunday, November 22, 2020 at 3:30pm. Featured works include Vincent Lübeck: Praeambulum in E Major, LübWV 7, J.S. Bach: Sonata IV in E Minor, BWV 528, César Franck: Prelude, Fugue, Variation, Op. 18 and Jean Langlais: "Acclamations" from Suite Médiévale. We are so pleased once again to give our parishioners and the greater Washington, DC community the opportunity to hear marvelous music in a concert setting. Come, bring a friend,
and enjoy this 50-minute program in person, or watch live or later. Social distancing will be observed and face masks will be required in the Cathedral.
Contact: Tom Stehle, Pastoral Associate for Liturgy and Director of Music Ministries
Meet the Artist
Suzanne Béchamps serves as associate organist at the Cathedral of Saint Matthew, as well as organist and choral accompanist at Holy Redeemer Church in Kensington, Maryland. She earned a master of music degree in church music, with a concentration in organ performance, as a student of Dr. Steven Cooksey at Shenandoah University. She also holds bachelor's and master's degrees in English literature and works as a marketing and communications professional for a federal government contractor.