Wed., December 2, 2020 12:40pm ·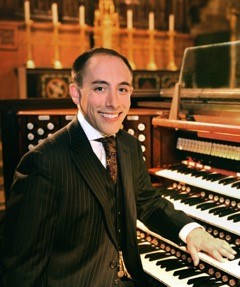 NOTE OF POSTPONEMENT: Wednesday Recital at St. Matthew's Cathedral Postponed due to travel restrictions.
The lunchtime Organ Recital by James Wetzel scheduled for Wednesday December 2 is postponed to a date in Spring 2021 due to the recently increased travel restrictions in both the District of Columbia and the City of New York.Our next scheduled recital will be given by the Cathedral's principal organist, Paul Hardy on Sunday, January 10, at 3:30pm. In February, there are two recitals by local organists: Joy Leilani-Garbutt, Wednesday, February 17 at 12:40 and David Lang, Sunday, February 21 at 3:30pm. We hope you can join us in person or through our live-stream.

The event described below will not take place on December 2.
---
James D. Wetzel continues the fall 2020 portion of our Cathedral Great Organ Concert Series with a recital on Wednesday, December 2 at 12:40pm (following the 12:10pm Mass), open to the public and livestreamed from the Cathedral on our YouTube Channel. Come, bring a friend, and enjoy this 40-minute program in person, or watch live or later.
James D. Wetzel will present a 40-minute concert on the recently completed Lively-Fulcher Great Organ on Wednesday, December 2, 2020 at 12:40pm, following the 12:10pm Mass. Featured works include Alexandre Guilmant (1837-1911),Organ Sonata No. 4 in D minor, Op. 61; J. S. Bach (1685-1750) Prelude and Fugue in C minor, BWV 546; and Sir Ernest MacMillan (1893-1973) Cortège Académique. We are so pleased once again to give our parishioners and the greater Washington, DC community the opportunity to hear marvelous music in a concert setting. Social distancing will be observed and face masks will be required in the Cathedral.
Contact: Tom Stehle, Pastoral Associate for Liturgy and Director of Music Ministries
Meet James Wetzel
James D. Wetzel is the Director of Music and Organist of the Parish of Saint Vincent Ferrer and Saint Catherine of Siena on Manhattan's Upper East Side where he directs its professional Schola Cantorum. James served from 2010-2015 as the Organist and Choirmaster of midtown's Church of Saint Agnes and from 2011-2016 was an adjunct lecturer in Hunter College's music department. Since 2010, he has also been the Assistant Conductor for the Greenwich Choral Society in Connecticut. Additionally, he holds a post as Assisting Organist at the Cathedral Church of Saint John the Divine where he formerly served as Organ Scholar under Bruce Neswick.
More about the Artist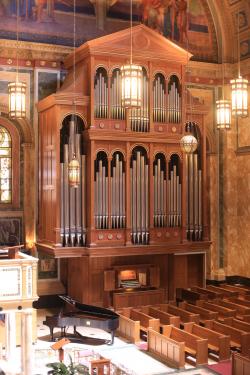 Mr. Wetzel is active as an organist and continuo player, having performed at the Berkshire Choral Festival and with the Collegiate Chorale, the Orchestra of Saint Luke's, the American Symphony Orchestra, the American Classical Orchestra, the Cecilia Chorus of New York, the National Chorale, the Oratorio Society of New York, and the Paul Winter Consort. He is the sub-dean and chairman of the program committee of the New York City Chapter of the American Guild of Organists, a board member of the Catholic Artists Society, and a member of the New York Purgatorial Society and the Society for Catholic Liturgy.

Born in Pittsburgh, James earned a bachelor's degree in organ performance from The Juilliard School where he studied with Paul Jacobs and was the first person ever to graduate with a master's degree and a professional studies certificate in choral conducting from Manhattan School of Music under Kent Tritle. He also studied privately with Donald K. Fellows and Robert Page and spent a year reading Early Christianity and Apologetics at Columbia University.