Sun., April 11, 2021 2:30pm ·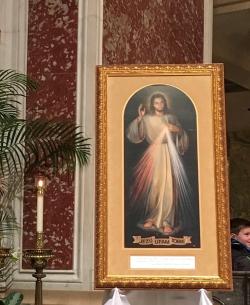 "Jesucristo es la misericordia divina en persona." (Papa Benedicto XVI)
Únase a su familia parroquial para la devoción de la Divina Misericordia en la Catedral, domingo 11 de abril a las 2:30 de la tarde. Venga a la Exposición del Santísimo Sacramento y la recitación de la coronilla de la divina misericordia (alternando en español e inglés), concluyendo con la Bendición.
"Jesus is Divine Mercy in person." (Pope Benedict XVI)
Join your parish family for Divine Mercy Devotions in the Cathedral on Sunday, April 11, Divine Mercy Sunday. Come for Exposition of the Blessed Sacrament immediately following the 1pm Spanish Mass and the praying of the Chaplet of Divine Mercy (alternating in Spanish and English) at 2:30pm, concluding with Benediction.