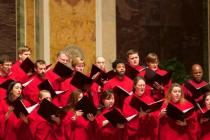 Enjoy a taste of the choral music you will hear from St. Matthew's Schola Cantorum (Latin for "School of Singers" at the 10am and 11:30am Masses this Sunday, courtesy of St. Matthew's Office of Music Ministries.
Visit our past choral highlights archive for music from previous Sundays in the current liturgical year (Cycle C) and going back to 2016.
Preparation of the Gifts, 10am and 11:30am Masses, "Quia Vidisti me, Thoma" – Luca Marenzio (1556-1599)
One of many themes associated with this Sunday in all three cycle of readings, is the theme of doubt and faith as demonstrated by the apostle Thomas in today's Gospel. Christ's words to Thomas are set in a joyful texture, which takes advantage of the bright major tonality with use of parallel sixths and tenths throughout the motet. The final Alleluia section is set in triple meter and takes on a dance like character. The Italian composer Marenzio was most well known as a composer of madrigals and motets, and prior to Monteverdi was the greatest of the Italian madrigal composers.
To hear a version, click below:
Communion 10am Mass, "Exsultate Justi"– Lodovico da Viadana (1564-1627)
Viadana was born in the Italian province of Mantua, under the family name Grossi, which was changed to Viadana when he entered the Franciscan order. There is some evidence to suggest that he served as a chorister in Cathedrals in Mantua, Concordia and Fano. He is remembered particularly for continuing the development of figured bass notation. This brief and joyful motet sets three verses of Psalm 33, alternating between triple and duple metrics, with brief instances of vocal flourishes and echo effects.
To hear a version, click below:
Communion 10am Mass, "This Joyful Eastertide" – Dutch Carol
The melody for this carol comes from a popular Dutch love song 'De liefde, voortgebracht door reyn geloof' and found its way into the Dutch hymnals in the late 17th century (See David's Psalmen, 1685, Amsterdam). The new text 'Hoe groot de vruchten zijn,' was written for this tune by the poet Joachim Oudaen. The pairing of text and music is quite well matched, particularly in the final line where the word 'arisen' is repeated four times on an ascending motive.
To hear a version, click below: