Thomas Stehle, St. Matthew's Pastoral Associate for Liturgy and Director of Music Ministries, gives us an insider's view of the music, prayers, and readings selections for the January 20, 2021 Mass at the Cathedral commemorating the inauguration of President Joe Biden in "An act of faith: the prayers and music of Biden's Inauguration Day Mass" for National Catholic Reporter.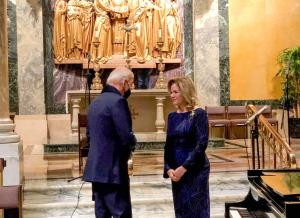 He begins, "If the liturgy is a more potent form of evangelization, then we might consider how those who attended the Inauguration Day Mass at the Cathedral of St. Matthew the Apostle were evangelized Wednesday morning, Jan. 20."
Tom took this photo of President-elect Biden thanking opera singer Renée Fleming, who sang "America the Beautiful" at the Mass.