Program Overview
The Adopt-a-Family program provides gifts and material assistance to low-income families in our community for Easter, Back-to-School, Thanksgiving, and Christmas.
Through partnership with neighboring businesses and the parish's generosity, this program has provided thousands of gifts to hundreds of families over the past several  years. These families received clothing, household items, furniture, toys and food.
Volunteers are needed to help contact families (English and bilingual Eng./Span. speakers), help collect donations, and help support each event in various ways. No long-term commitment is needed. You may participate in any or all of the above events.
Call for Christmas Program Sponsors: This program is successful through the immense support of neighboring businesses. If your work place is interested in giving back to those in need, please consider serving as a sponsor of one or more families. 
For more information, email Norma Canedo or call her at the rectory (202-347-3215).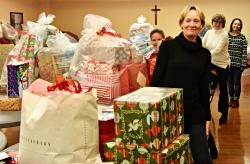 Parishioner Reflection on Serving with Christmas Program
Parishioner, Pam Quinn, refects on her call and service in coordinating the annual Christmas Program which serves low-income families, formerly homeless children, the L'Arche communities, and our Monday Morning Ministry guests. Read her reflection here. 

Adopt-A-Family Program: Easter Gift Card Drive 
St. Matthew's Social Justice & Community Services Committee invites financial donations (needed by Saturday, March 13, 2021) so we can provide grocery gift cards to families in need this Easter season. Donate via check (payable to Cathedral of St. Matthew the Apostle with "AAF Easter" on the memo line) or via PayPal or FaithDirect. You also may donate $25 Safeway or Giant gift cards. If you have any questions, email Pedro Carroll. To schedule a delivery of gift cards or to confirm receipt of your donation, email Norma Canedo.
Programa de Adopte-una-Familia: Colecta de tarjetas de regalo
El Comité de Justicia Social y Servicio Comunitario de San Mateo esta recogiendo donaciones financieras (necesitadas para el sábado 13 de marzo de 2021) para que podamos proporcionar tarjetas de regalo de comestibles a las familias necesitadas en esta temporada de Pascua. Done mediante cheque (dirigido a la Catedral de San Mateo el Apóstol con "AAF Easter" en la línea de memo) o vía PayPal or FaithDirect. Tambien puede donar tarjetas de regalo de $25 de Safeway o Giant. Si tiene preguntas, escriba a Pedro Carroll. Para hacer una cita para dejar una donación de tarjeta de regalo o para confirmar que recibimos su donación electrónica, mande un correo a Norma Canedo.