Our Mission
To encourage a deeper awareness of our duties to God's creation and to take action at the individual, state, national and global level with a focus on prayer, ecological conversion, energy efficiency, conservation, and advocacy efforts.
From Pope Francis
"Dear friends, time is running out! Deliberations must go beyond mere exploration of what can be done, and concentrate on what needs to be done, starting today. We do not have the luxury of waiting for others to step forward, or of prioritizing short-term economic benefits. The climate crisis requires 'our decisive action, here and now' (Laudato Si', 161) and the Church is fully committed to playing her part."
Earth Day 2021 Initiatives and Activities
Thursday, April 22, 2021 - Earth Day Brown Bag Film-Luncheon, with Zoom screening of "Forest Man" with distinguished guest Theologian and Indian Film and Media Specialist Rayappa Kancharla, Diocese of New Delhi, Caritas India, Save the Children International, Global Catholic Climate Movement LSA. Click here for event flier.
Saturday, April 24, 2021, 9am - Noon - Anacostia Watershed Society Earth Day Clean-up (Register by Tuesday, March 30, 2021)
Monthly Virtual Creation Care Team Meetings
Join us monthly to discuss projects and help plan activities that promote the Laudato Si' mission within our parish and beyond. Email the Co-chairs for more information. March 18, 2021 06:00 PM ET (US and Canada), 04/15, 05/20, 06/17, 07/15, 08/19, 09/16. 10/21, 11/18, 12/16
Recurring Zoom Meeting: https://us02web.zoom.us/j/83478448196
Meeting ID: 834 7844 8196 - Call in: 301 715 8592 US (Washington DC)
Buy Clean Renewable Power
The Creation Care Team invites you to "go green" by purchasing your electricity from renewable sources. Check out the options for residents of DC, MD or No.VA, summarized in
Buy Clean Renewable Power
.
Support Environmental Legislation in Maryland
Please join Catholics around Maryland in urging our State legislators to pass key environmental bills that respond to Pope Francis' call to care for creation and for the most vulnerable among us. The highest priority bills that need your support are the Climate Solutions Now Act, the Transit Safety and Investment Act, the Zero-Emission Bus Transition Act, the Coal Community Transition Act, and the Maryland Environmental Constitutional Amendment. You can find out more about these bills at
this link.
Please sign the electronic petition of support
by clicking here.
Fratelli Tutti Series
Creation Care Team Co-Chairs Simone Seym and Phil Downey cordially invite you to our new Fratelli Tutti Sessions, Series I: Fraternity, Geschwisterlichkeit, and Social Friendship.
Sundays, January 3 - February 14, 2021 5:00pm - 6:00pm, via Zoom. Follow this link for every session.

We are excited to announce a series of discussions and presentations on Pope Francis' Encyclical Fratelli Tutti.
The encyclical can be found at this link.
The Encyclical "Fratelli Tutti" was signed by Pope Francis on October 3, 2020 in Assisi and made public the following day. In signing his third encyclical letter in Assisi, Italy, the Holy Father wanted to recognize the inspiration he drew from St. Francis. Following in the footsteps of the Saint of Assisi, he urges us to dream together and dispel the dark clouds of conflicts, suffering and conformism. "Fratelli Tutti" proposes fraternity, Geschwisterlichkeit, and social friendship as the ways indicated to build a better, more just and peaceful world, with the commitment of all: people, institutions, the economic world, international organizations, civil society. Fratelli Tutti dwells on the notion of kindness. It is an invitation to graciousness and a work of spiritual discernment.
Session 1: January 3, 2021, Sunday, 5PM-6PM, FT 1-55 Introduction (FT 1-8) Ch.1 Dark Clouds Over A Closed World (FT 9-55) We are more divided than ever; we are more alone than ever. People who are no longer "useful" or needed are discarded. Many lose their rights and suffer because of new forms of slavery. Where does human dignity lie?
Session 2: January 10, 2021, Sunday, 5PM-6PM, FT 56-86 Ch. 2 A Stranger on the Road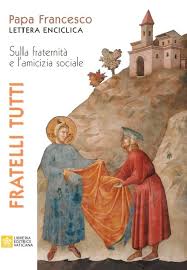 (FT 56-86) The Good Samaritan shows us that there are paths of hope. Many ignored the man lying on the wayside. Only one person stopped and gave him the gift of closeness. In today's world, with so many open wounds: do we walk by indifferently? Do we act like the Good Samaritan? We must make a choice.
Session 3: January 17, 2021, Sunday, 5PM-6PM, FT 87-153 Ch. 3 Envisaging and Engendering an Open World (FT 87-127) Reaching the peripheries where the "hidden exiles" live. Considering the dignity of each person. We must care for one another. Making a gift of self to others. There are so many things that we can do to avoid the greatest danger: failing to love.
Ch. 4 A Heart open to the Whole World (FT 128-153) Human beings have no borders. Faced with the borders between countries, we can welcome, protect, promote and integrate the people who arrive. Let us open the local to the universal, enriching ourselves with other cultures.
Session 4: January 24, 2021, Sunday, 5PM-6PM, FT 128-153 Ch. 5 A Better Kind of Politics (FT 154-197) Can universal Geschwisterlichkeit and social peace exist without a sound politics? May it be the greatest desire of all individuals and advance processes of justice for all. The kind of politics that brings human dignity back to the center and whose soul is social charity. That approaches the problems of today's world and renews social structures and organizations. That expresses itself in a spirit of openness to everyone and globalizes basic human rights.
Session 5: January 31, 2021, Sunday, 5PM-6PM, FT 198-224 Ch. 6 Dialogue and Friendship in Society (FT 198-224) Dialogue must be the basic of politics. A dialogue that respects the other's point of view. And that seeks social friendship in the encounter with the most impoverished. In this way we can do more: we can heal the open wounds generated by conflict and establish peace once again. St. Paul describes kindness as a fruit of the Holy Spirit (Gal 5:22). Let us cultivate a culture of kindness.
Session 6: February 7, 2021, Sunday, 5PM-6PM, FT 225-270 Ch. 7 Paths of Renewed Encounter (FT 225-270) True reconciliation is achieved proactively, "in the midst of" conflict, and resolving it through dialogue. Only thus will we really achieve forgiveness and reconciliation.
Session 7: February 14, 2021, Sunday, 5PM-6PM, FT 271-287 Ch. 8 Religions at the Service of Fraternity in our World (FT 271-287) The dialogue among religions makes God present in our societies. Violence has no basis in our fundamental religious convictions, but only in their distortion. Among religions, it is possible to share values and establish bonds of friendship, peace, and harmony on the path to peace. The starting point must be God's way of seeing things. Because God does not see with his eyes, God sees with his heart.
If you have further questions, please feel free to contact our Co-Chairs of the Care for Creation Team, Simone Seym and Phil Downey. You may also contact Cathedral staff for the Social Justice Ministries, Norma Canedo or Fr. John Benson.
Past Activities
Laudato Si' Study Series I: Caring for our Common Home
Laudato Si' Study Series II: Being Prophetic People
Earth Day 2020 - 50th Anniversary: Movie Screening & Discussion of "FLINT - The Poisoning of an American City"
Laudato Si' Week May 16-24, 2020
Movie Screening & Discussion - Pope Francis: A Man of His Word
Season of Creation: September 1 - October 4, 2020
Simone Seym describes her passion for Creation Care Ministry in the Social Justice Blog
Lifting creation care to the top in Washington, D.C.
Fratelli Tutti, Series I: Fraternity, Geschwisterlichkeit, and Social Friendship
Take Action!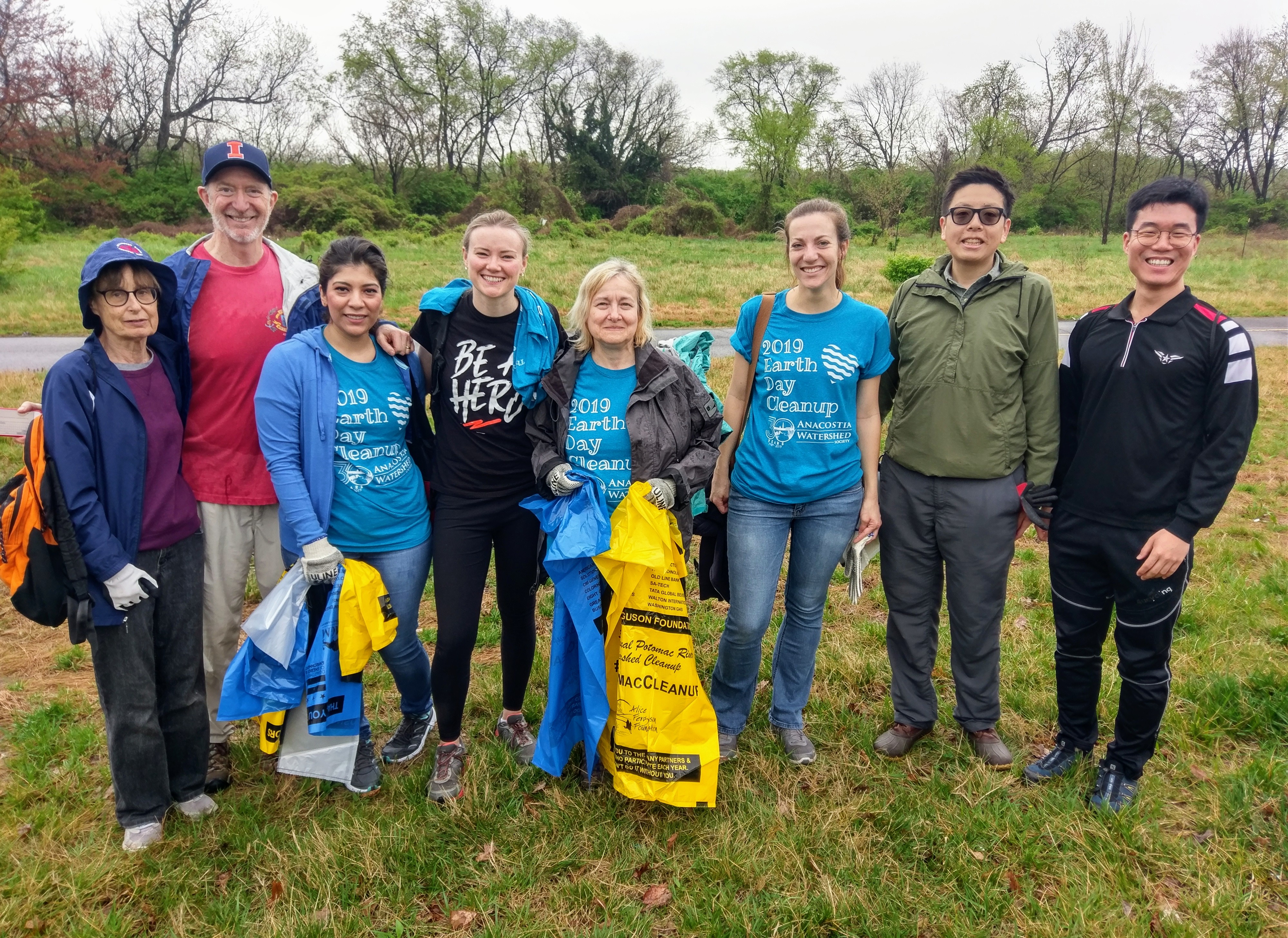 Some members of the Creation Care Team at the 2019 AWS Earth Day Clean Up.