Our Mission
To encourage a deeper awareness of our duties to God's creation and to take action at the individual, state, and national levels with a focus on prayer, energy efficiency, conservation, and advocacy efforts.
From Pope Francis, June 14, 2019
"Dear friends, time is running out! Deliberations must go beyond mere exploration of what can be done, and concentrate on what needs to be done, starting today. We do not have the luxury of waiting for others to step forward, or of prioritizing short-term economic benefits. The climate crisis requires 'our decisive action, here and now' (Laudato Si', 161) and the Church is fully committed to playing her part."
Upcoming Events
• Monday, July 22 team meeting, 7:20pm, East Conference Room (following the monthly meeting of the Social Justice Committee). Meet other team members as we review the strategic plan for the second half of 2019.
Take Action
• Join our team
• Sign the Catholic Climate Declaration (St. Matthew's Parish has!)
• Email Phil at stmattcreationcareteam@gmail.com for more information.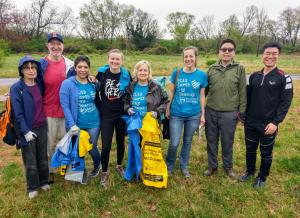 Creation Care Team at the 2019 AWS Earth Day Clean Up