Our Mission
To encourage a deeper awareness of our duties to God's creation and to take action at the individual, state, and national levels with a focus on prayer, energy efficiency, conservation, and advocacy efforts.
From Pope Francis, June 14, 2019
"Dear friends, time is running out! Deliberations must go beyond mere exploration of what can be done, and concentrate on what needs to be done, starting today. We do not have the luxury of waiting for others to step forward, or of prioritizing short-term economic benefits. The climate crisis requires 'our decisive action, here and now' (Laudato Si', 161) and the Church is fully committed to playing her part."
Upcoming Events
The Creation Care Team will meet on Thursday, March 12 at 6:45pm in the West Conference Room to discuss our present and future initiatives. Join us! Email Phil Downey at stmattcreationcareteam@gmail.com.
Reunión de Ministerio de Cuidado de la Creación
El equipo de Cuidado de la Creación se reunirá el jueves, 12 de marzo a las 6:45pm en el Salón de Conferencias del Oeste para discutir nuestras presentes y futuras iniciativas. ¡Únete a nosotros! Envíe un correo electrónico a Phil Downey a stmattcreationcareteam@gmail.com. O llame al padre John Benson o Norma Canedo en la rectoría, 202-347-3215.
Take Action
• Join our team
• Sign the Catholic Climate Declaration (St. Matthew's Parish has!)
• Email Phil at stmattcreationcareteam@gmail.com for more information.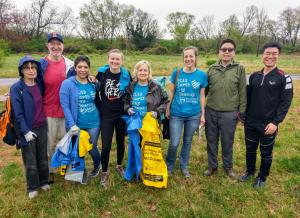 Creation Care Team at the 2019 AWS Earth Day Clean Up