Our Mission
To encourage a deeper awareness of our duties to God's creation and to take action at the individual, state, and national levels with a focus on prayer, energy efficiency, conservation, and advocacy efforts.
From Pope Francis, June 14, 2019
"Dear friends, time is running out! Deliberations must go beyond mere exploration of what can be done, and concentrate on what needs to be done, starting today. We do not have the luxury of waiting for others to step forward, or of prioritizing short-term economic benefits. The climate crisis requires 'our decisive action, here and now' (Laudato Si', 161) and the Church is fully committed to playing her part."
Upcoming Activities
Laudato Si' Virtual Study Series II
Emailtheco-coordinators to join the series described below, Phil Downey and Simone Seym, to receive the meeting number and passwords. You will alsoneed to send an email to receive the call-in number and password to phone-into the meeting.
**NEW SERIES** - We are excited to announce our Laudato Si' Study Series II: Being Prophetic People.
We will meet virtually on four Tuesdays, 6pm - 7pm, and the sessions will include prayer, an introduction into the session's main focus, a multi-media component, listening, conversation and discussion. The main foci on each of the four sessions are: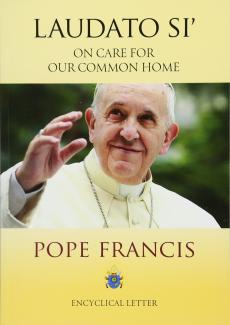 July 14: Creation - Jubilee for the Earth
Reflections at the intersection of greed, inequality and destruction.
July 21: Prophetic Call of Hope - Celebrate Life and Prayer
Reflections on Pope Francis' global call for the care for dignity, LS 205
July 28: Integral Approaches - Making Sustainable Changes
Reflections about the integral relationship between economic security, ecological sustainability, social wellbeing and just relationships between people and the earth
August 4: Just Renewal of our Common Home - Let us walk together!
By exercising our prophetic call, we grow in love and strength. Reflecting on ways we can advocate for the just renewal of our common home.
If you have further questions, please feel free to contact our two Co-Chairs of the Care for Creation Team, Simone Seym and Phil Downey, or the Coordinator for Social Justice Ministries, Norma Canedo or Fr. John Benson.
Take Action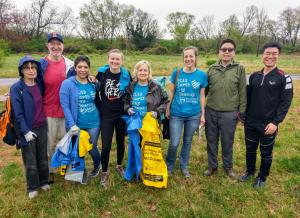 Some members of the Creation Care Team at the 2019 AWS Earth Day Clean Up.