Rev. Msgr. W. Ronald Jameson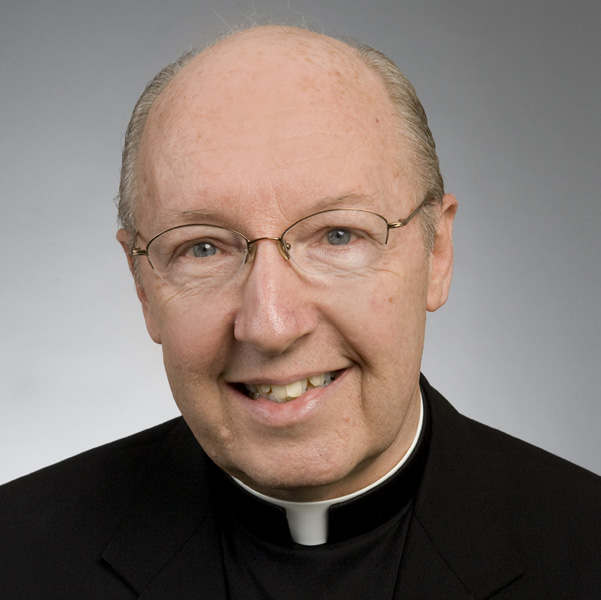 Msgr. Jameson was born in Washington, DC in 1942 and raised in Hughesville, Charles County, MD.  He attended St. Charles College High School in Catonsville, MD and St. Mary's Seminary in Baltimore as well as the Theological College of the Catholic University of America.  He was ordained in St. Matthew's Cathedral on May 18, 1968 by Patrick Cardinal O'Boyle, Archbishop of Washington.  His first two assignments were in suburban Maryland parishes, after which he was assigned to St. Matthew's Cathedral (1974-1985).
During these years, he was the Archdiocesan Director of Liturgy and served as the Coordinator of the Spiritual Renewal and Reconciliation Program (1974-76) for the 41st International Eucharistic Congress in Philadelphia.  In 1985, he was named pastor of Holy Redeemer Parish in College Park, MD and in 1992 was named Archdiocesan Secretary of Parish Life and Worship.  In July 1995, He was named Rector of the Cathedral and was also named a Prelate of Honor with the title of Monsignor.
Over the years, Msgr. Jameson has been active in a variety of archdiocesan positions: Priest Consultor, Chair of the Council of Priests, Dean and member of the Priests' Personnel Board, member of the Catholic Charities Board of Directors and Archdiocesan Coordinator of Liturgies celebrated by Pope John Paul II during his visit to Washington in 1979.  He has also served on the board of the Interfaith Conference of Metropolitan Washington.  Nationally, he serves or has served on the Board of the Paulist National Evangelization Association, the Board of the National Conference of Cathedral Rectors,the Board of the Holy Land Christian Ecumenical Foundation, the Board of the Federation of Diocesan Liturgical Commissions and is a member of the Order of the Holy Sepulchre of Jerusalem.  In October 2007, Theological College bestowed on Msgr. Jameson its Alumnus Lifetime Service Award honoring him as Pastor-Leader of the Faith Community.     
His legacy to St. Matthew's Cathedral will undoubtedly be his enduring interest in building parish community, establishing a parish archive and history project, orchestrating the Cathedral's major restoration project and the construction of the adjoining rectory and office building project on Rhode Island Avenue (1998-2006).